Back
Creating a UI/UX design portfolio (with little or no experience)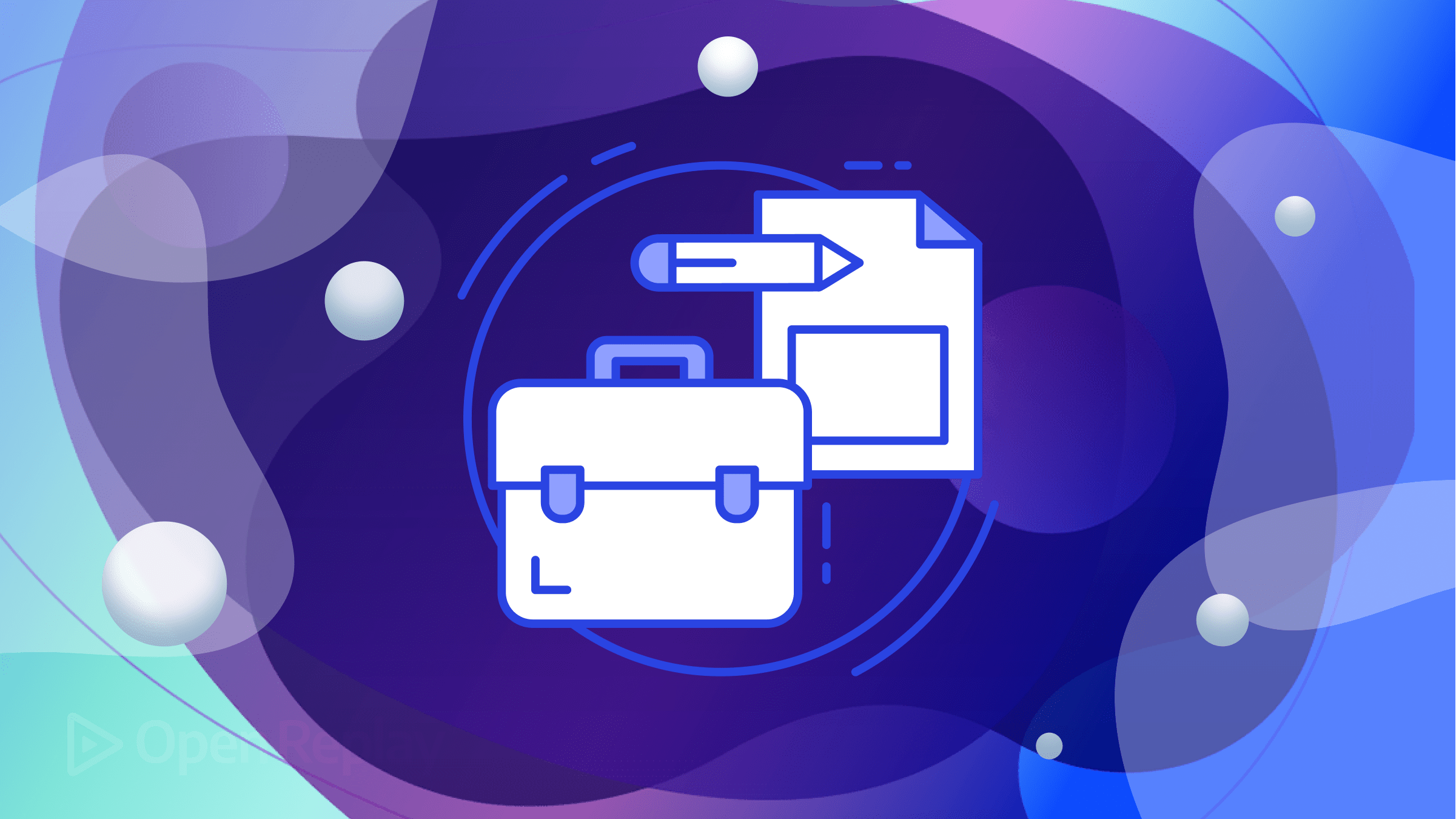 When creating a UI/UX design portfolio, it is essential to carefully consider what to include. As a beginner, it can be challenging to demonstrate your talents and abilities to potential employers or clients as a beginning in the UI/UX design field. You must have a strong UI/UX design portfolio to exhibit your creativity, problem-solving abilities, and knowledge of user experience design. This article will offer advice and industry-recognized best practices for building an impressive UX design portfolio.
A UX (User Experience) design portfolio is a collection of work samples demonstrating a designer's abilities and expertise in developing user-centered digital products, services, or experiences.
A U design portfolio aims to provide a tangible representation of a designer's work and design thinking process to potential employers, clients, or collaborators. Case studies that document the design process from initial research and ideation to prototyping and testing, as well as final designs and outcomes, are typically included. UX-design portfolios show who the owners are: their areas of expertise, their strengths, their processes, and their design styles.
Developing the self-assurance to present your portfolio
Building self-assurance to display your portfolio starts with confidence in your skills and abilities as a UI/UX designer, believing in yourself and your abilities, and letting your portfolio showcase your passion for UI/UX design and commitment to improving the user experience. Focus on your strengths and what sets you apart from others in the field. Make sure to choose your best work and showcase it in your portfolio, highlighting your design process and the impact your work had.
Embrace failure and see it as an opportunity to learn and grow. Don't be afraid to showcase imperfect projects demonstrating your learning journey; seek feedback from peers, mentors, and industry professionals to gain valuable insights and improve.
Remember, a portfolio is a living document that evolves over time. Keep updating it with your latest work and achievements.
What projects should you not include in your portfolio?
It is essential to only showcase projects that represent your skills and abilities as a UI/UX designer. Focus on showcasing a few quality projects demonstrating your design process, problem-solving skills, and impact on the user experience. By curating a strong portfolio, you can demonstrate your capabilities and attract new clients who appreciate quality work.
Incomplete projects: showcasing your best work is key when creating a portfolio. That's why excluding any incomplete projects from your portfolio is important. Clients want to see your work's end result and a clear resolution. Including incomplete projects may lead potential clients to question your ability to deliver a finished product. Only include the best projects you have fully developed and brought to a successful resolution.

Irrelevant projects: Your portfolio should be a reflection of your skills and expertise, so avoid projects that are unrelated or do not showcase your skills and abilities.

Poor quality projects: When it comes to building a strong portfolio, it's important to showcase your best work. That's why projects with low quality designs should be left out. While it may be tempting to include every project you've ever worked on, it's crucial to curate your portfolio to only feature the most impressive and well-designed pieces. Not only does this demonstrate your skills as a designer, but it also shows potential clients and employers the level of quality they can expect from you. Remember, limited scope or projects that do not demonstrate a thorough design process should also be avoided if you want to make a lasting impression in the design world.
Where to look for work if you haven't done (much or any) professional paying UI/UX work
To build your portfolio quickly, consider taking on smaller projects, volunteering, or participating in design challenges. Focus on creating a few quality projects instead of many mediocre ones. By showcasing your skills through personal projects and pro bono work, you can build your UX design portfolio and find paid work in the field;
Networking: Connect with other UX designers and industry professionals through online communities, meetups, and attend industry events. Offer to help or collaborate on projects and seek recommendations and referrals. By networking and actively seeking opportunities, consider using platforms like Upwork, Fiverr, or Toptal to find freelance UX design projects.

Online Job Boards: Utilize online job boards such as LinkedIn, Indeed, and Glassdoor to find freelance or full-time UX design opportunities.

Pro Bono Work: Offer to work on pro bono projects for non-profit organizations or small businesses to build your portfolio and gain experience.

Personal projects: Create projects that challenge your design skills and demonstrate your ability to solve real-world problems.

Internships: Consider applying for UX design internships to gain hands-on experience and make valuable industry connections.
Presenting your projects' histories in your portfolio
In today's competitive world, presenting your projects clearly and concisely is critical to stand out as a UX designer. You can effectively demonstrate your skills and abilities to potential clients and employers by showcasing your design process and outcomes. The key to creating a compelling portfolio is to focus on the user experience and highlight how your designs solve their problems.
As a UX designer, you must showcase your ability to research, prototype, test, and iterate on your designs. Your portfolio should be well-organized with visually appealing images and written content that effectively communicates your design process. By compellingly presenting your projects, you can establish yourself as a talented UX designer with a strong portfolio of work.
Project Overview: Start each project with a brief overview that summarises the project's goals, objectives, and outcomes.

Design Process: Highlight your design process, including research, conceptualization, prototyping, and testing. Use visuals such as wireframes, sketches, and prototypes to demonstrate your technique.

User-Centered Design: Emphasize your user-centered design approach, including user research, personas, and user testing.

Design Challenges: Discuss your design challenges and how you addressed them in your design.

Outcomes: Present the final outcomes, including screenshots, animations, and prototypes, and discuss the impact of your design on the user experience.

Reflection: Conclude each project by reflecting on what you learned and how you would approach the project differently next time.
Session Replay for Developers
Uncover frustrations, understand bugs and fix slowdowns like never before with OpenReplay — an open-source session replay tool for developers. Self-host it in minutes, and have complete control over your customer data. Check our GitHub repo and join the thousands of developers in our community.
Practical strategies for building your portfolio.
Make sure to start with a clear goal by determining what type of work you want to showcase in your portfolio and what you hope to achieve with it, select a platform that is easy to use, visually appealing, and allows you to showcase your projects effectively.
Focus on quality over quantity; start with a few substantial projects that showcase your design process and impact the user experience. Highlight your design process by emphasizing your design process, including research, prototyping, and testing, to demonstrate your problem-solving skills and approach.
Use visuals such as wireframes, sketches, and prototypes to demonstrate your design process and outcomes visually. Keep it up-to-date, and ensure it is current and relevant by regularly updating your portfolio with your most recent work and achievements.
Using these practical strategies, you can quickly and easily build a strong UX design portfolio that effectively showcases your skills and abilities.
Tools to use in creating a UX design portfolio.
Creating a UI/UX design portfolio requires carefully considering tools, presentation techniques, organization, and personal branding. Following these guidelines, you can create a portfolio that effectively showcases your skills and impress potential employers or clients. These tools will help you demonstrate how your designs would function in real-world scenarios and provide a more immersive experience for viewers.
Keep in mind that your UX design portfolio should highlight your best work and highlight your qualifications as a designer. With the aid of these resources, you may develop a portfolio that will dazzle prospective employers or clients and make you stand out in a crowded employment market.
Inspirational portfolios to check out
There are many outstanding UI/UX design portfolios out there, each with its unique style and approach. Some notable examples include the portfolio of Tobias van Schneider, whose minimalist designs are elegant and functional. Another standout designer is Sarah Parmenter, whose work is characterized by attention to detail and a user-centered approach.
There are various platforms where you can also check out these portfolios, amongst many others;
Make sure to check out portfolios of successful UI/UX designers for inspiration, such as Jenny Lee and Khoi Vinh. Other designers worth checking out include Jonathan Lax, popularly known as YONIL, whose portfolio showcases a range of projects across various industries, and Anton Repponen, whose work often incorporates playful animations and bold typography. Meanwhile, the portfolio of Mike Kus is a masterclass in visual storytelling, with each project telling a compelling narrative through its design. By checking out these inspiring UI/UX portfolios, you can get an idea of what makes a strong portfolio and how to showcase your skills and abilities as a UX designer effectively.
Overall, exploring the portfolios of other UI/UX designers can be a great way to stay inspired and informed about the latest trends and techniques in this field. Whether you're just starting or are a pro, learning from others and incorporating their ideas into your work can help you create truly outstanding designs that delight users and exceed expectations.
Summary
Creating a UI/UX design portfolio can be challenging for beginners with little or no experience in the field. However, tips and strategies are available, and they can help you showcase your skills and creativity in the best possible way.
One of the first steps is to start with simple projects, such as redesigning a website or creating a mobile app. This will help in building your skills and gaining confidence in your abilities. Next, it would be best to focus on creating a strong visual identity that reflects your style and design philosophy.
Another critical aspect of a UI/UX design portfolio is demonstrating your problem-solving skills and ability to think critically about user experience. This can be done by including case studies or detailed descriptions of the design process for each project.
It is also essential to highlight any relevant education, training, or skill you have received in the field and any certifications or awards you have earned. When presenting your portfolio, keeping it clean, organized, and easy to navigate is essential.
In addition, it would help if you tailor your portfolio to the specific company or job that you are applying for. Finally, feel free to showcase your personality and creativity in your portfolio, as this can help you stand out from others and make a strong impression on potential employers.
Gain Debugging Superpowers
Unleash the power of session replay to reproduce bugs and track user frustrations. Get complete visibility into your frontend with OpenReplay, the most advanced open-source session replay tool for developers.