Back
Google Analytics 4 vs Universal Analytics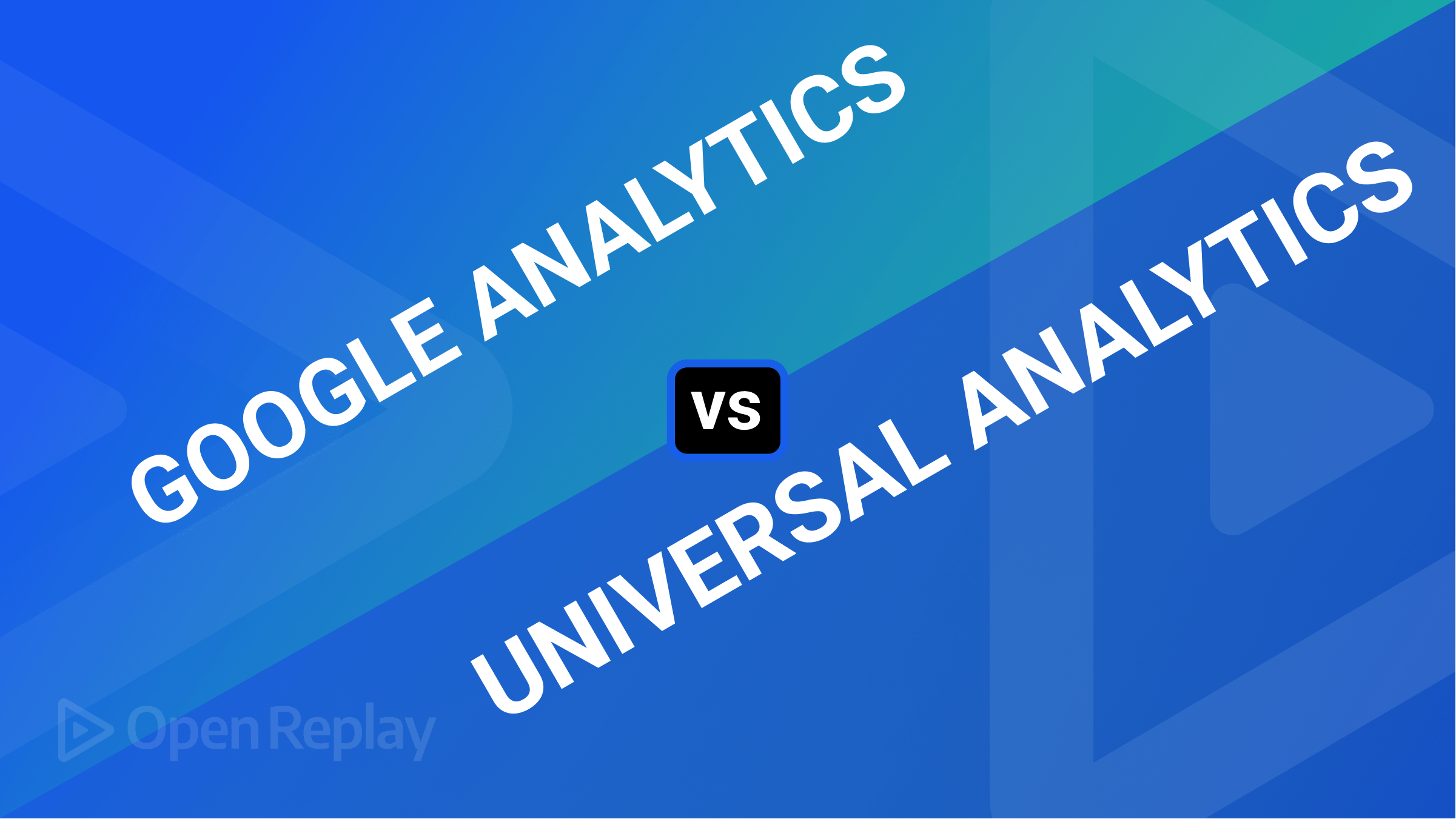 Recently, Google has announced their move to sunset Universal Analytics, the Google Analytics version that we are used to, and move to Google Analytics 4 or GA4. Many marketers are pretty annoyed. Nevertheless, while there are some issues, overall, the new platform is likable.
Plus, there are a ton of new features that you'll love. There are stark differences in the new version, but Google claimed that the design is privacy-centric.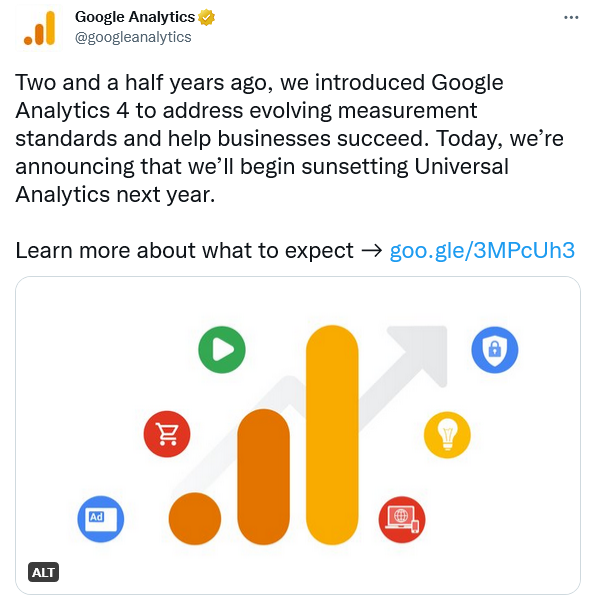 Universal Analytics: An Overview
Known also as Traditional Analytics, Universal Analytics is an SEO Google Analytics version that provides new Tracking Codes for websites. Furthermore, it also provides features that could measure user behavior more accurately. It's a version that sets a new standard for collecting and organizing data.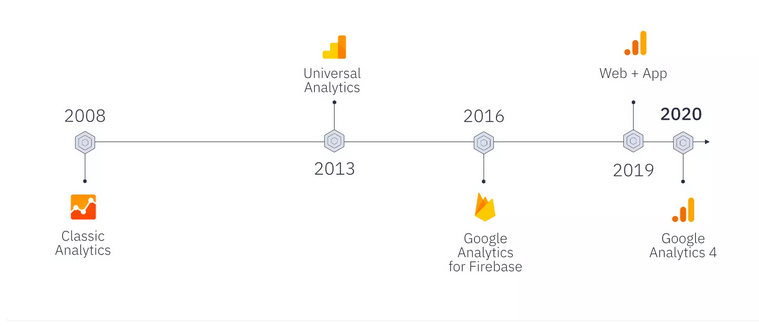 Google Analytics Timeline - Crossmasters
This version, introduced in the fall of 2012, was the default website property type before October 14, 2020. It provides the owner of the account with more in-depth information about the behavior of users.
Key Features
Provides a unique user ID to every user visiting the website.
Lets you track user behavior from outside sources, such as call centers, lead generation systems, and so on.
Provides three tracking codes viz. Analytics.js, measurement protocol, and Google Analytics SDKs, which help gather more insightful user information.
Enables you to build custom metrics, which help target data unique to your business's goals.
Google Analytics 4: An Overview
Google describes this tool as the next-generation approach to privacy-first tracking, AI-based predictive data, and x-channel measurement all at once. The new Analytics could fill out data for web traffic as well as user behavior with its advanced machine learning models. The main goal is to shift how data is shown to focus on the users, mainly the user journey, from the first visit to the final conversion.

Key Features
Data Import now includes a huge array of data from non-website sources all in one property.
Cross-domain tracking that does not need code adjustments and could be done within the UI.
Enables marketers to correct, edit, and fine-tune how events are tracked.
User journey-focused life cycle report.
Session Replay for Developers
Uncover frustrations, understand bugs and fix slowdowns like never before with OpenReplay — an open-source session replay tool for developers. Self-host it in minutes, and have complete control over your customer data. Check our GitHub repo and join the thousands of developers in our community.
Let's now get into the differences between both systems.
Session calculations
A noticeable difference between the two systems. In Universal Analytics, a session represents a period of time that a user is actively engaged with a website. Furthermore, the following things end a session in UA after landing on a website, such as a clock passing midnight and thirty minutes of inactivity.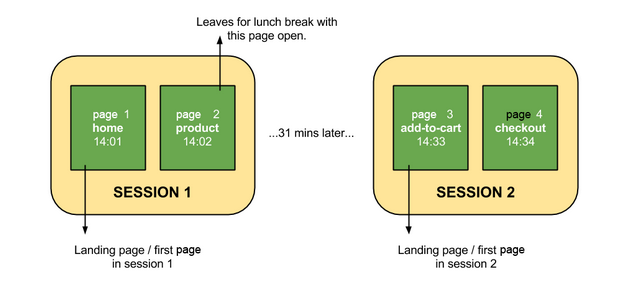 In Google Analytics 4, the session start event generates a session ID in which all subsequent events are associated during a session. Like the UA, a session ends after 30 minutes of inactivity. However, sessions could now carry over across midnight and not be affected by new campaign parameters.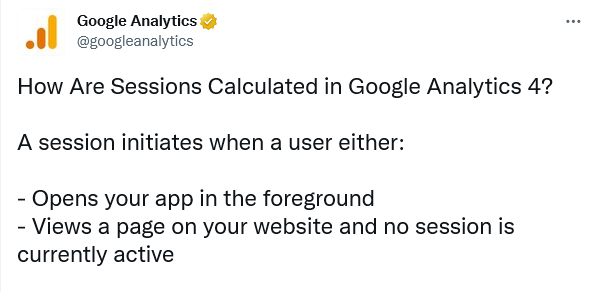 Dashboard
The new reporting interface is the first difference that you'd notice between Google Analytics 4 and Universal Analytics. Most of the reports in Google Analytics 4 have been renamed or replaced, and one of the reasons for this is that the latest version uses a different measurement model compared to the old UA.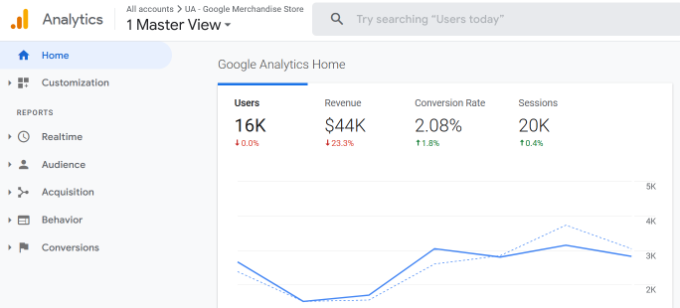 Universal Analytics Dashboard
For instance, in Google Analytics 4, you can see new reports, which include monetization, engagement, and retention. UA has an entirely different reporting interface. For example, all reports are grouped under five main categories: audience, real-time, behavior, acquisition, and conversions.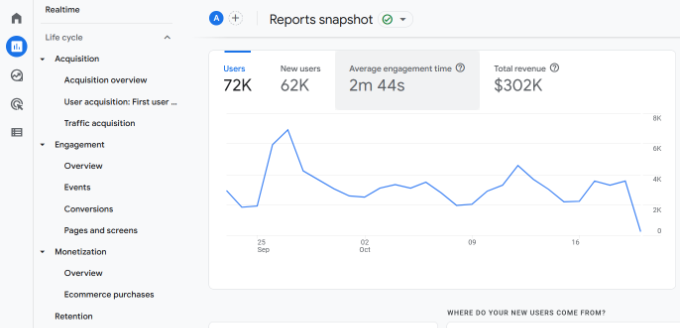 Google Analytics 4 Dashboard
Privacy
The most noticeable change in Google Analytics 4 is that the IP addresses are no longer stored or collected. You could see IP addresses in Universal Analytics unless you anonymized them personally. This is the first of the many changes done to protect user data.
There are options to retain data, which let you choose how long Google Analytics 4 could store user-centric data. The time period is a couple of months by default. Nevertheless, you could extend it to 14 months if you wish. Furthermore, there are also options to turn off ad personalization data and location-specific data by country. Explore more privacy features of Google Analytics 4.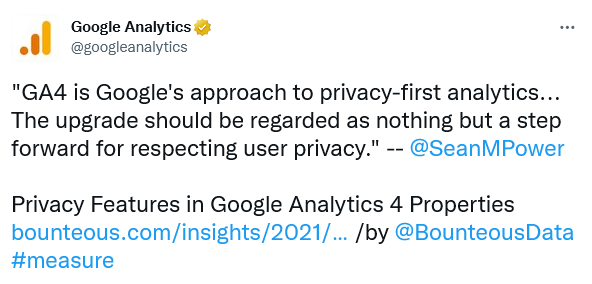 Reporting
It seems like UA was built to be an extensive collection of standard reports. Google Analytics 4 has lesser standard reports and seems more suitable for exporting data or custom reports. Acquisition reporting helps understand how different kinds of traffic are performing on a website.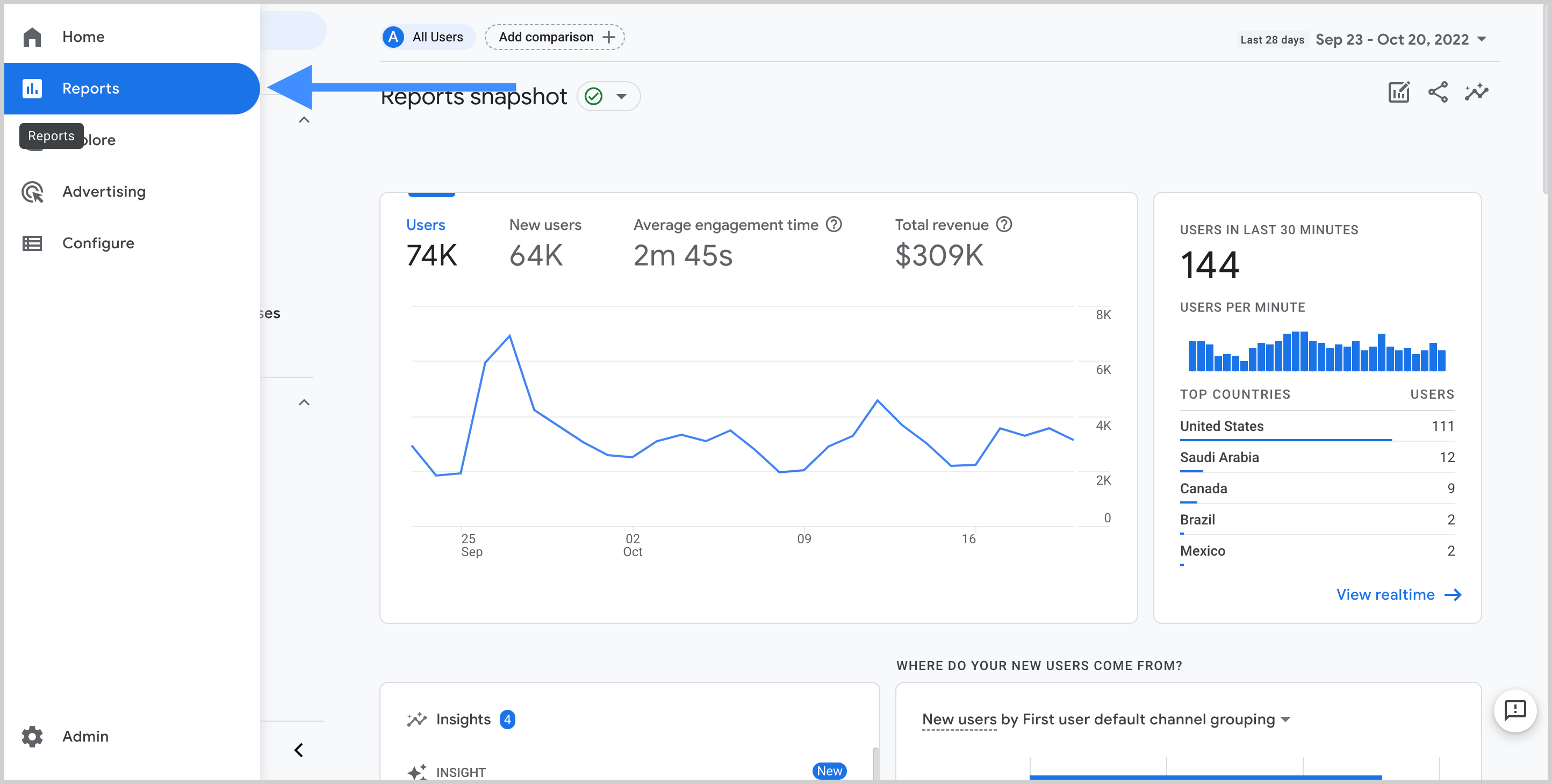 Reporting View of GA4
Furthermore, Acquisition reporting helps understand the overall performance of a business and channel performance and provides insight to make budget allocation decisions as well. In GA4, Acquisition reporting is fundamentally similar to acquisition reporting in Universal Analytics.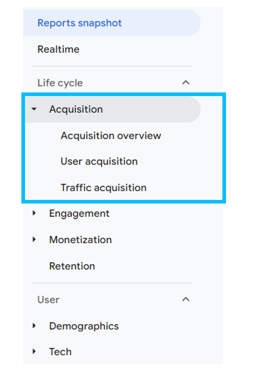 Bounce rate
In Google Analytics 4, some of the more noticeable omissions are the bounce rate metrics. Instead, Google has opted to take a more 'positive' approach and report on figures for the engagement rate. Put simply, the engagement rate is a ratio metric presented as a percentage.

The formula is engaged sessions/sessions. These are sessions that lasted at least ten seconds, with one conversion event at least, or had at least two page views or screen views. In GA4, bounce rate is the percentage of sessions, which are not engaged sessions. In UA, the bounce rate was calculated as the percentage of users that did not view more than one page of the website.
Events
In Google Analytics 4, all measurements are events while the most important metric in Universal Analytics is the page views. Rather than seeing generalized data, you could acquire a fuller understanding of how users interact with your website and app. You could still view session-level reporting, but the ability to break it down by interaction means more in-depth insights and reports.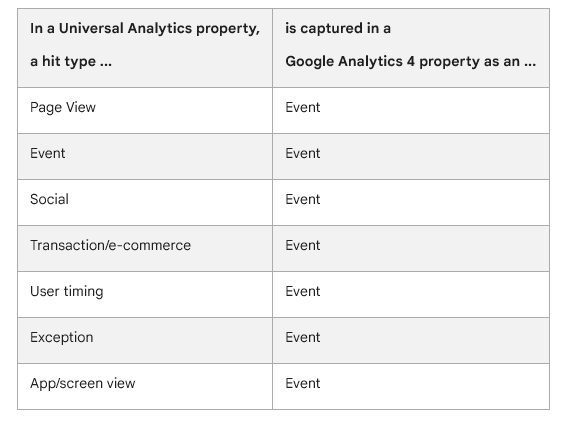 Moreover, Google Analytics 4 has a range of new metrics, which include:
Engagement rate
Engaged sessions
Engagement time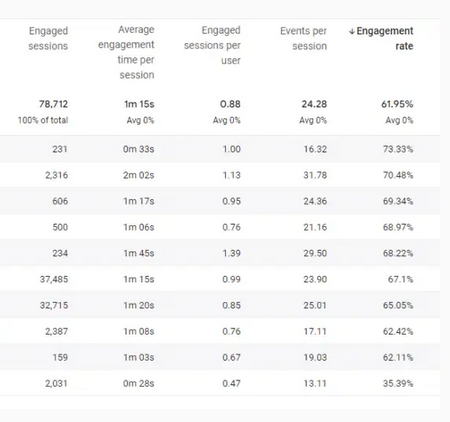 It also tracks several other dimensions, including demographics, events, attribution, etc. This change is significant but makes tracking customers throughout their journey easier.
Cross-Platform Tracking
The old UA makes tracking users across platforms almost impossible. In Google Analytics 4, however, tracking both web and app data in one property is possible. Cross-platform tracking lets you see the entire customer journey, which includes engagement, acquisition, monetization, and retention.

GA4 could track the user experience from beginning to end, and from one platform to another. This is made possible with the unique user IDs assigned during login. Truly, this is incredibly useful information for any marketer since it enables a better understanding of the users' cross-platform experience. Moreover, the data could be used to extrapolate information for a generalized demographic and create more accurate customer models.
Data Measurement
How they work when collecting and processing website data is another crucial difference between Google Analytics 4 and Universal Analytics. UA makes use of a measurement model that's based on pageviews and sessions. GA4 uses an event-based model for keeping track of data.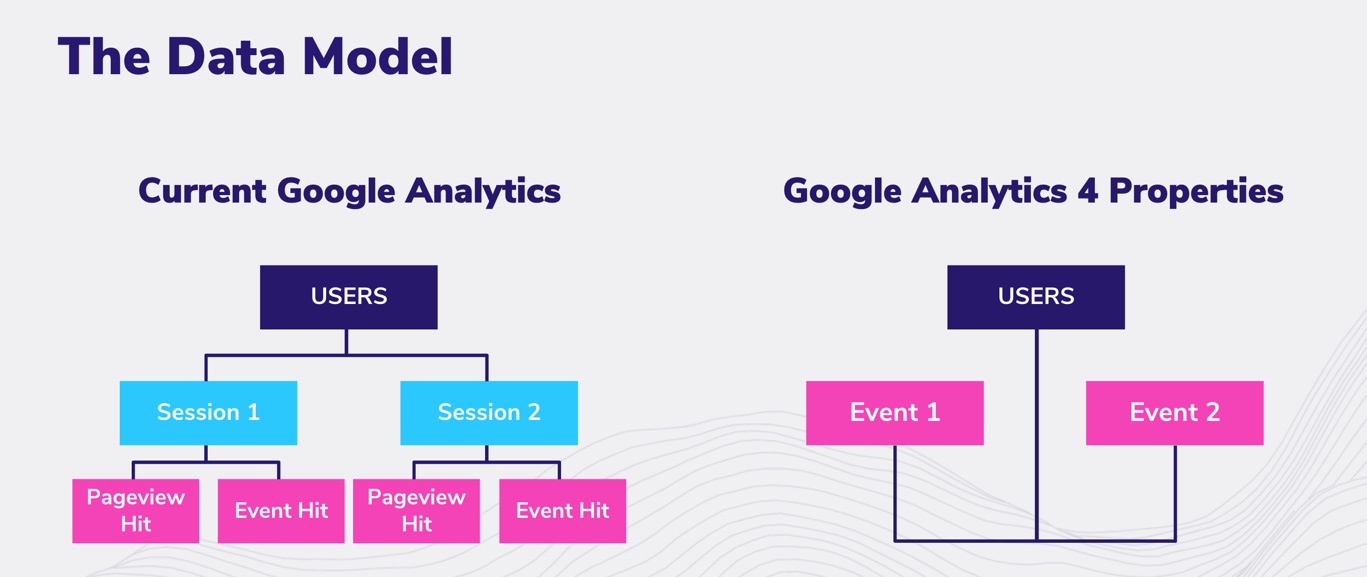 Image Source - Bounteous
Sessions could link data to one individual and specifically track them as they interact with your website. Event data is anonymous, and the relevance is placed on the specific actions undertaken rather than the particular users of those actions. This enables you to accurately monitor the complex buyer journeys across different devices.
Moreover, it makes enabling the improved measurement features in GA4 easier. You can, for instance, set up outbound link clicks and scroll depth tracking by just clicking a switch. On the other hand, with UA, you would have to do a complex setup or tweak the tracking code to configure the kind of link, scroll-tracking, or click-tracking.
Conclusion
Have you made the switch yet? Google Analytics 4 is, without a doubt, a powerful tool that provides invaluable insights to a website's audience.
Gain Debugging Superpowers
Unleash the power of session replay to reproduce bugs and track user frustrations. Get complete visibility into your frontend with OpenReplay, the most advanced open-source session replay tool for developers.