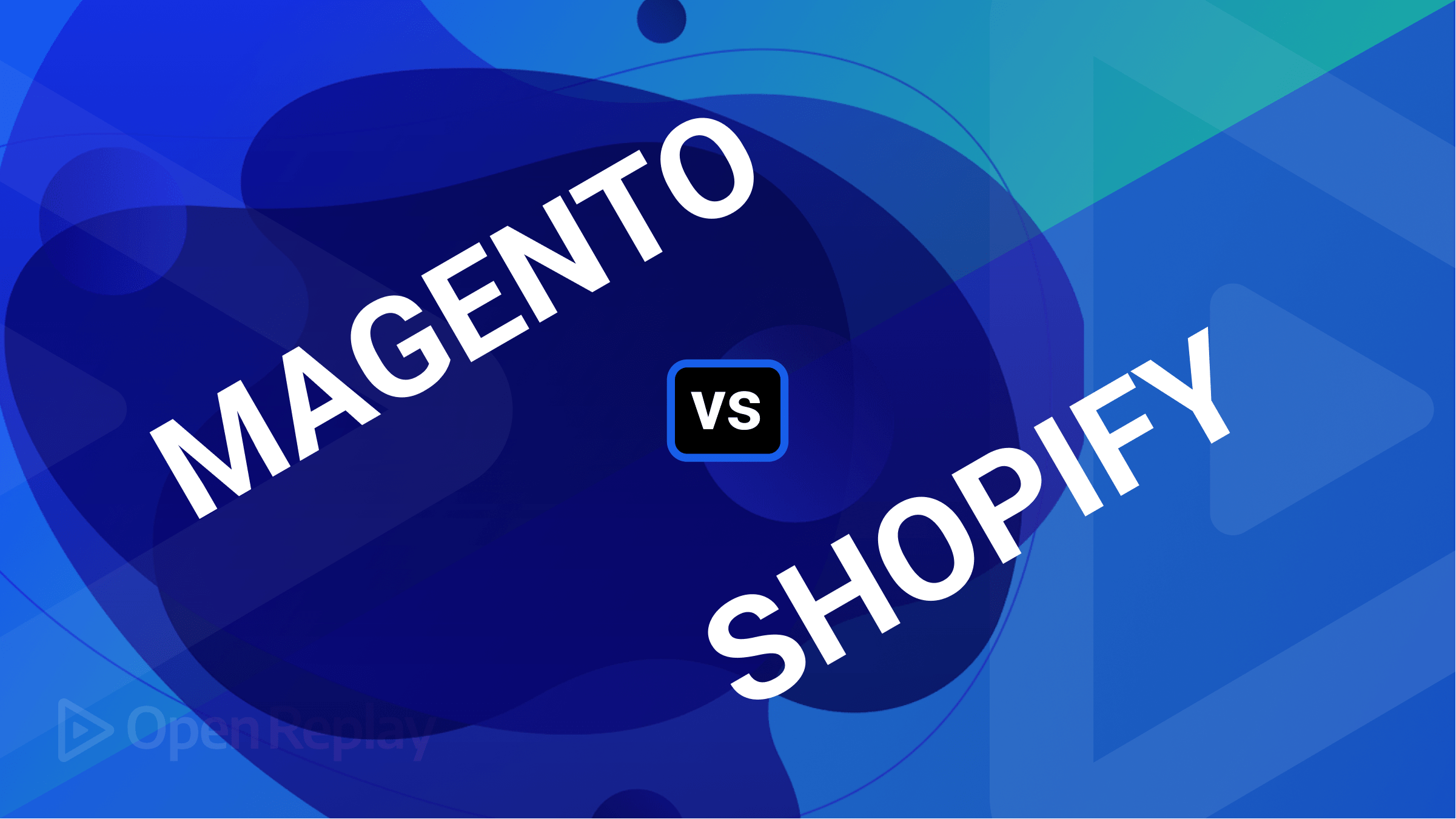 In today's interconnected world, e-commerce has revolutionized how we shop and do business. With just a few clicks, we can purchase anything from anywhere in the world, breaking down barriers of distance and time. Magento and Shopify are the two top tools, and this article will compare them so you can decide which to use.
The popularity of e-commerce has led to the rise of numerous online store platforms. Two of the most dominant players in the market are Magento and Shopify. Each platform offers unique features, strengths, and weaknesses, making it crucial for businesses to understand their differences to select the one that aligns with their needs. In this comparison, we will take a deep dive into Magento and Shopify, looking at their features, pricing, ease of use, and more; without taking sides, we hope at the end of the article, you must have an insight into which to choose for the job.
Overview of Magento and Shopify
An online store, or an e-commerce store, is a website or digital platform where businesses or individuals can sell products or services to customers over the Internet. Online stores provide customers a convenient way to browse, select, and purchase products without leaving their homes or offices. They typically allow customers to create accounts, search for products, view product details and images, add items to a shopping cart, and checkout securely using various payment methods.
When setting up an online store, Magento and Shopify are two of the most popular e-commerce platforms available today, although Magento is an open-source platform. Magento was released in 2008, while Shopify is a proprietary platform launched in 2006.
Both platforms have their strengths and weaknesses, and which one you choose will depend on your specific business needs.
There are Over 4.5 million e-commerce sites built with Shopify. Shopify is used by online sellers in over 170 plus countries worldwide, with 60% of Shopify stores estimated to be based in the United States alone. Magento, on the other hand, has 167,000 websites using it. However, popularity does not necessarily mean superiority. Analyzing each platform's features is important to determine which is best for your business.
Features
Both Magento and Shopify offer a wide range of features to help businesses set up and run their online stores. However, they differ in their approach to some of these features.
Magento is known for its flexibility and customizability, allowing businesses to tailor their online stores to meet their needs. It offers features such as multiple storefronts, product bundles, advanced search capabilities, and integrated payment and shipping options. Additionally, Magento allows for integration with third-party tools and services, making it an ideal choice for businesses with complex requirements.
On the other hand, Shopify is known for its ease of use and simplicity. It offers features such as a drag-and-drop website builder, a wide range of templates and themes, and built-in payment and shipping options. Shopify also has a large app store, allowing businesses to add functionality to their online stores.
Ease of Use
Regarding ease of use, Shopify strikes a balance between powerful e-commerce tools and user-friendly design. Although it may not be as quick as some other platforms to get your site live, Shopify's intuitive interface makes setting up an online store relatively easy, even for beginners. Nonetheless, trying the platform yourself is always recommended before making a final decision.
On the other hand, Magento may pose more of a challenge, especially for businesses without technical expertise. While it offers high customization and flexibility, its steeper learning curve requires more technical know-how. Magento is not recommended for beginners and is better suited for businesses with more complex requirements. However, developers tend to find the interface reasonable, thanks to its consolidated navigational menu and straightforward self-hosting setup for managing customers, products, promotions, sales, and reports.
Pricing
Both Magento and Shopify offer different pricing options to cater to various business requirements. Shopify has three pricing plans, starting from $32 per month for Basic Shopify and going up to $399 per month for Advanced Shopify.
In contrast, Magento provides two versions - Magento Open Source and Magento Commerce. Magento Open Source can be downloaded for free, allowing users to modify and edit files, store data, and host it anywhere. However, hosting costs can range from $4 to $500 per month, depending on the server's features, support, and security. It is important to note that Magento is a resource-intensive system and requires a dedicated server capable of handling the installation files and high traffic. Therefore, choosing a reliable hosting provider for optimal performance is crucial. In summary, while Shopify offers a simpler pricing structure, Magento's open-source version is free to download and use. Still, hosting costs can vary significantly depending on the server's capabilities and support.
Customization
Magento and Shopify are highly customizable e-commerce platforms that allow businesses to tailor their online stores to meet their specific needs. With Magento, businesses can take an existing fully functional template and make changes without touching the system's critical or foundational front or back end. Alternatively, they can completely integrate a brand-new template into a functional Magento store without making significant programming-related changes to the system. However, if you want to modify the nature of the standard and core Magento system to achieve your presentation and functional objectives, you'll need to delve deeper into the backend.
Similarly, Shopify also offers a range of customization options, from themes and products to discounts and payments, without sacrificing speed or responsiveness. Brands can move quickly with new projects, products, and campaigns while still creating unique, personalized customer experiences. Whether you're looking to customize your theme, products, or payments, Shopify Plus puts control back in the hands of brands, allowing them to stand out at scale and maintain deep customization without sacrificing agility.
SEO
Search engine optimization (SEO) is essential to any online business's success. It helps improve website ranking, increase traffic, and boost sales. To ensure your online store gets the visibility it needs, you need to optimize it for search engines.
Both Magento and Shopify are excellent platforms for SEO, but they have some differences. Magento is known for its robust SEO capabilities, offering customizable URLs, sitemaps, metadata, and schema markup features. On the other hand, Shopify offers a good range of SEO tools that cover essential areas, from header code to custom URLs.
Regardless of the platform you choose, optimizing your website is crucial to maximize your chances of getting found in Google's search results. In short, if you want to succeed in the competitive world of e-commerce, you must prioritize SEO.
Support
Both Magento and Shopify provide various support options, including community forums, documentation, and support tickets. Additionally, Magento offers a 24/7 support team via live chats and tickets, ensuring prompt and efficient resolution of any issue. Similarly, Shopify offers 24/7 support via live chat, phone, and email, with knowledgeable support staff and a vast knowledge base. Therefore, both platforms provide high-quality support, enabling users to resolve any problem quickly and effectively.
Session Replay for Developers
Uncover frustrations, understand bugs and fix slowdowns like never before with OpenReplay — an open-source session replay tool for developers. Self-host it in minutes, and have complete control over your customer data. Check our GitHub repo and join the thousands of developers in our community.
Security
Ensuring the security of your online business is of utmost importance, and both Magento and Shopify offer robust security features to protect your website and customer data. However, there are some notable differences between the two platforms.
Magento has a reputation for being particularly strong in the realm of security. It provides features like two-factor authentication, password hashing, regular security updates, built-in tools for PCI compliance, SSL certificates, and firewall protection. With these features, Magento offers a comprehensive approach to safeguarding your online store and customer information.
Shopify, on the other hand, also offers a range of security features, including passkeys and two-step authentication, which can make it much more difficult for unauthorized individuals to access your account. By adding an extra layer of security, Shopify can reduce the likelihood of account takeovers, which can lead to data breaches and financial losses. In short, both Magento and Shopify prioritize security, but the specific features they offer may appeal to different business needs and preferences.
Drawbacks
Before choosing Shopify or Magento as your eCommerce platform, it is important to consider their drawbacks in order to determine if they are the best fit for your online store, whether it's already established or in the planning stages.
| Shopify | Drawbacks | Mangeto | Drawbacks |
| --- | --- | --- | --- |
| Limited Design Customization | Shopify offers a wide variety of themes for your online store, but customization options are limited. To make custom changes to the design, you may need to hire a designer, which can be an additional cost. | Technical Availability | Magento's customization features are abundant but require technical expertise to set up. Its complex architecture often necessitates the need for experienced Magento developers to handle the task effectively. Seeking the services of an experienced developer is crucial to ensure a proper understanding of store requirements before making changes. |
| Processing Fees | Each sale made on Shopify incurs a transaction fee, especially if you use third-party payment gateways other than Shopify payments. These fees can vary depending on the plan you choose, and if you're not careful, they can come as a surprise expense. | Costs | A highly customized Magento store can be expensive due to the cost of plugin support, development services, hosting, and maintenance. |
| Email Hosting Access | If you want to create an email address for your store, you'll need to look for another provider. Shopify doesn't offer email hosting as a feature in its plans, so you'll need to factor in the cost of hosting an email account with @yourdomain, which typically costs around $10 per month through services like Google email hosting. | heavy load | Magento's architecture, which is designed like an enterprise Java application, can make handling heavy loads challenging |
| Migration challenges | It is not uncommon for Shopify users to migrate to other eCommerce platforms. However, many users have reported that such a move can come with various migration challenges. One significant issue is the potential loss of saved data during the migration process. Even though Shopify and other eCommerce systems offer the option of exporting your website as a CSV, this may not be enough to prevent data loss. Therefore, it is essential to carefully weigh the potential risks and challenges before deciding to migrate from Shopify to another platform. | Need for hosting | Hosting a Magento store requires a dedicated server and specialized knowledge, and optimizing it requires strong analytical skills. Despite its benefits, the risk of website crashes due to its size is a significant drawback of adopting Magento. |
Conclusion
Both Magento and Shopify offer excellent e-commerce capabilities. However, there are some differences in terms of SEO, support, and security. Ultimately, the choice between Magento and Shopify depends on your specific business needs and budget. Therefore, it's essential to carefully evaluate your options and choose the platform that best suits your requirements.
References
Gain Debugging Superpowers
Unleash the power of session replay to reproduce bugs and track user frustrations. Get complete visibility into your frontend with OpenReplay, the most advanced open-source session replay tool for developers.